Projects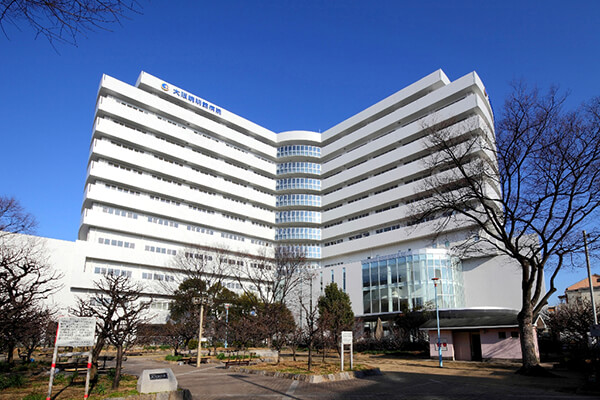 Hospital that will continue to provide quality medical services
Osaka Gyoumeikan Hospital Konohana Ward, Osaka City, Osaka Prefecture
The 50-year old Osaka Gyoumeikan Hospital was relocated to a new site near Nishikujo Station. Fujita carried out construction on the property, which was limited to about 6,000 m2, in a safe and efficient manner, creating a new general hospital with 482 beds. Some of the design's features include an open 3-story atrium, making the hospital interior feel bright and open. The foundation was designed with a seismic isolation system to make the hospital safer and more secure.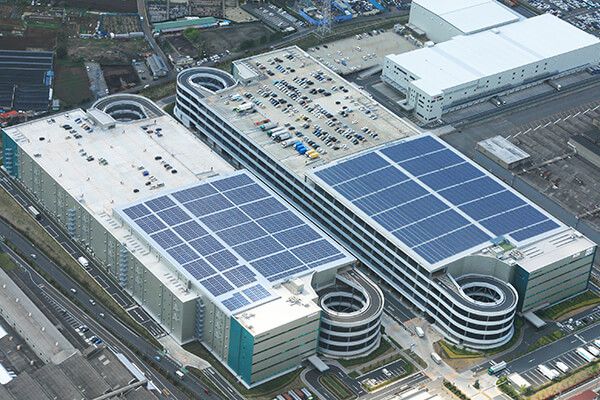 Japan's largest logistics facility with an earthquake-proof design
Prologis Park Zama 2 Zama City, Kanagawa Prefecture
With total floor space of 240,000 m2*, this is Japan's largest multi-tenant logistics facility. Designed to withstand major earthquakes, it makes use of the latest technologies, including pile-head seismic isolation and precast concrete. In order to be environmentally friendly and compatible with business continuity plans in the case of disasters, it is equipped with a 2-megawatt solar power generator, and it has obtained CASBEE rank S, something that can be said about few other logistics facilities.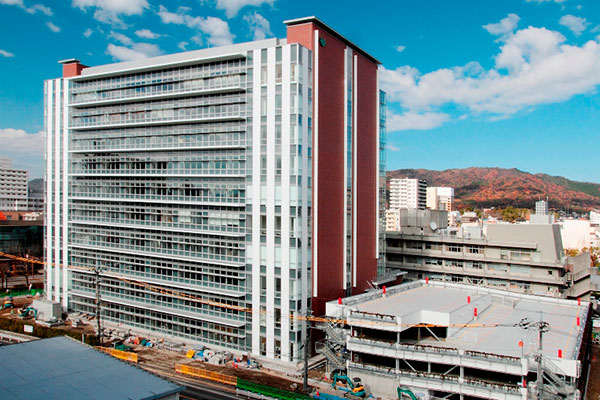 An environmentally-friendly municipal office building that serves as a disaster management center for the community
Higashihiroshima City Municipal office building Higashihiroshima City, Hiroshima Prefecture
The construction project to rebuild an existing municipal office building (built in 1970) was designed in accordance with the basic principles of being environmentally friendly and serving as a functional disaster management center for connecting, gathering, and accommodating people. It was also designed to be more centralized so that citizens could access services more conveniently. It was built with a seismic isolation system and precast, prestressed concrete in order to provide earthquake resistance and structural longevity.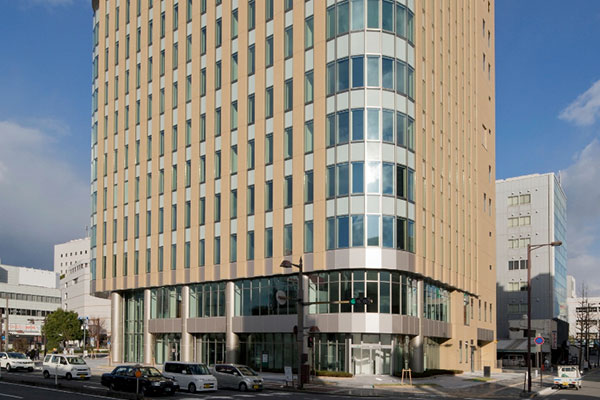 A hub for connecting communities and promoting agriculture in Wakayama
Wakayama JA Building Wakayama City, Wakayama Prefecture
This rebuilding project was undertaken due to the aging of Wakayama Prefecture JA Building that was located near Wakayama Station. Opened in January 2014, the cutting-edge building has one underground level and 12 above-ground stories as well as seismic isolation system. The event space on the first floor can be used for all kinds of exhibitions and farmers' markets. The second floor is equipped with a multipurpose hall that seats 500 people. The facility serves as a hub for connecting communities and promoting agriculture in Wakayama Prefecture.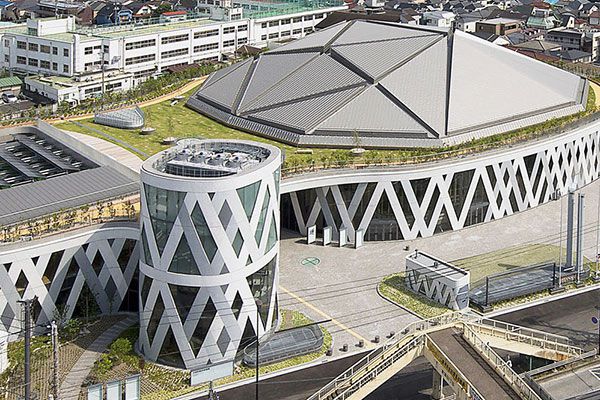 A central sports facility for ward citizens of all ages
Ota Ward Gymnasium Ota Ward, Tokyo
Ota Ward Gymnasium, a popular destination for over 40 years and a mecca for professional wrestling, was given a new lease on life. Fujita carried out a highly difficult construction project that included underground island construction, a curved 3D frame, lozenge-shaped exterior tiles, and steel trusses designed with a 3D CAD system. It is used as a sporting venue as well as a site for high-level spectator matches.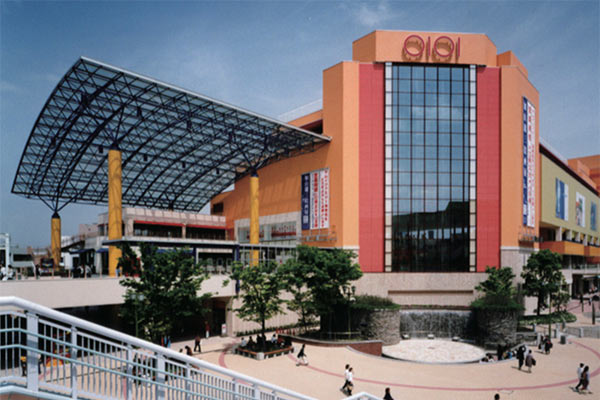 A large commercial complex that has become the face of Ebina in the 21st century
Vinawalk Ebina city, Kanagawa
This commercial facility was built for the purpose of further rejuvenating the area around Ebina Station—home to Odakyu, Sotetsu, and JR railway lines. It is comprised of a variety of venues, including department stores, restaurants, general merchandise, health clinics, services, and a cinema complex. It is friendly to both the environment and to people, with a solar power generator, rooftop greenery, universal design, and other features. It has become a new hub for lifestyle information in central Kanagawa Prefecture.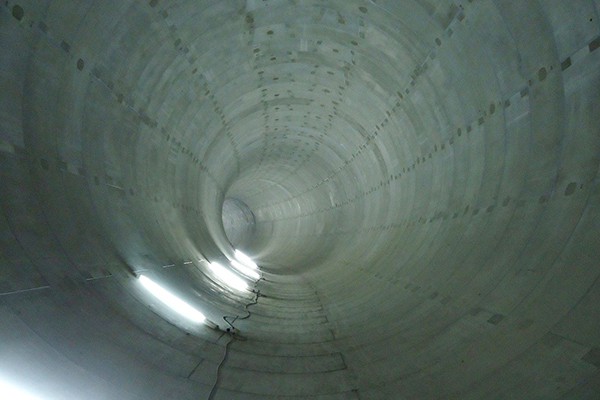 A reservoir spillway that creates a more comfortable living environment
The Sunamachi Tunnel Koto Ward, Tokyo
This is a shield-bored tunnel that diverts the rainwater that flows into the Sunamachi Water Reclamation Center in Tokyo so that it ends up in the public Sunamachi Canal instead of the private Sunamachi North Canal. Fujita used the shield tunneling method to extend the 8-meter-diameter tunnel by 1.5 km. The project also reduced CO2 emissions due to construction through a combination of technologies that include centralized power and fuel management, energy recovery, and sludge reduction.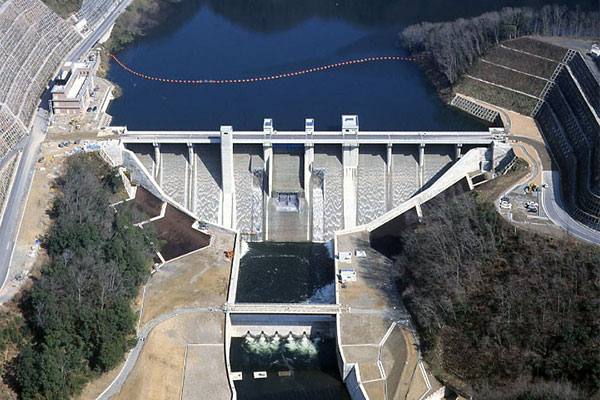 A concrete masterpiece that protects the nation and the livelihoods of the people in the area
Haizuka Dam Miyoshi City, Hiroshima Prefecture
The Haizuka Dam in Miyoshi City, Hiroshima Prefecture has a reservoir suitable for a dam three times its size and is extremely efficient. This environmentally-friendly dam uses environmental spillways (for stagnation prevention discharges) and other advanced techniques. It took a span of 42 years to complete, from the beginning of preliminary investigations in 1965 to the start of operations in 2007. Going forward, this dam will continue to protect the environment and the livelihoods of the people in the area on a semipermanent basis.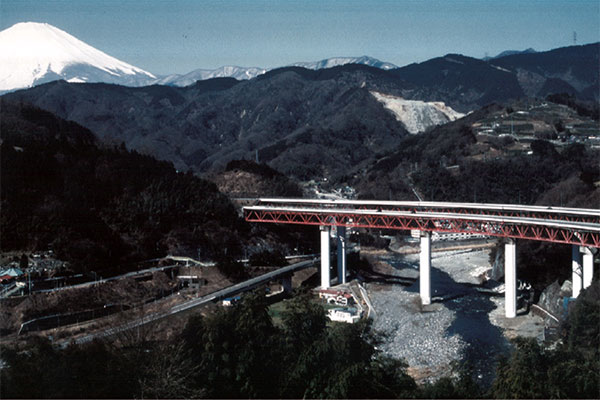 The earthquake-proof bridge with the tallest piers on the Tomei Expressway
Sakawagawa Bridge (Lower Section) Reinforcement Project, Tomei expressway Odawara City, Kanagawa Prefecture
Fujita carried out an earthquake-proofing reinforcement project on Sakawagawa Bridge, which is situated between Oimatsuda and Gotemba ICs in preparation for the anticipated Tokai and southern Kanto earthquakes. This construction was carried out utilizing the carbon fiber rolling method, which is very strong, lightweight, and economical. Upon completion, earthquake tests were carried out using a rocket engine—a procedure that drew attention throughout the industry.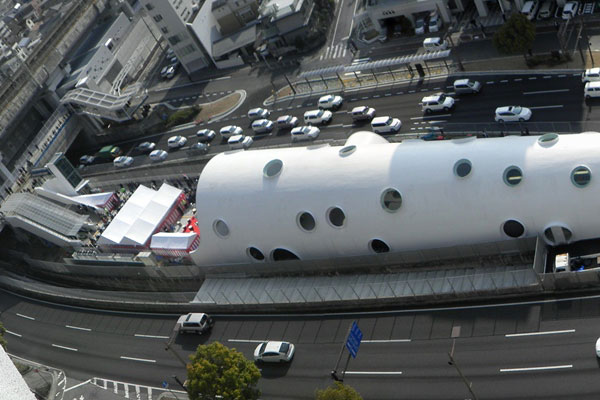 A key terminal for transportation in Hiroshima
Shin-Hakushima Station, Astram Line Naka Ward, Hiroshima City, Hiroshima Prefecture
Shin-Hakushima Station in Hiroshima, located where the JR Sanyo Main Line and Astram Line (Hiroshima Shin-Kotsu No. 1 Line) intersect, was built as a transfer station for the 2 lines. The station uses a semi-underground design with an impressive futuristic exterior. By linking up the2 railway lines, the new station greatly improves access to the city center from JR lines.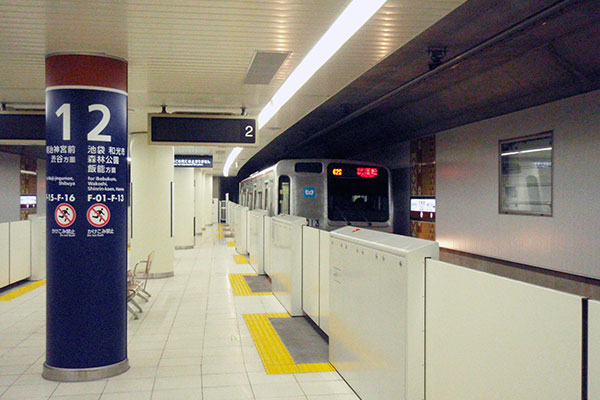 A local terminal near Meiji Shrine and the National Noh Theatre
Kita-sando station Shibuya Ward, Tokyo
Kita-sando Station, which opened in June 2008, is a station on the Fukutoshin Line, the newest subway line in Tokyo. During construction, efforts were made to reduce noise and vibration, and pebbles and sand were used to counteract subterranean waterlogged soil. Kitasando Station also serves the Tobu Tojo Line, the Seibu Ikebukuro Line, and the Tokyu Toyoko Line, making it very convenient and a popular station among local residents.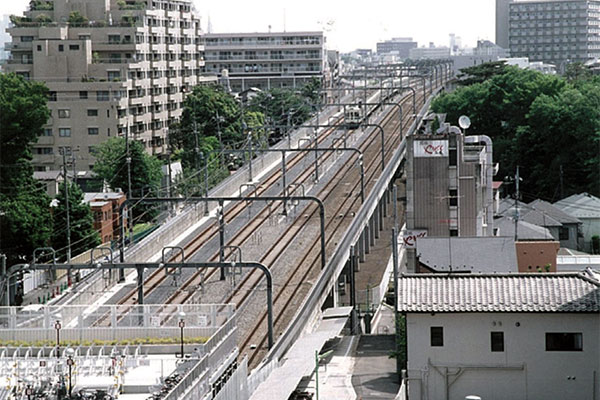 Improving the Odakyu Line's carrying capacity by expanding it to quadruple tracks
Construction on the section from Soshigaya-Okura Station to Seijogakuen-Mae Station Setagaya Ward, Tokyo
This construction project involved expanding a section 800 m in total length from the viaduct to the underground station to quadruple tracks. Because the construction took place in a quiet residential neighborhood in Seijo, Setagaya Ward, close attention was paid to noise, vibration, and dust. As part of the process of moving the existing ground-level tracks underground, construction girders (a temporary bridge) were erected so that construction could proceed without interrupting the existing line.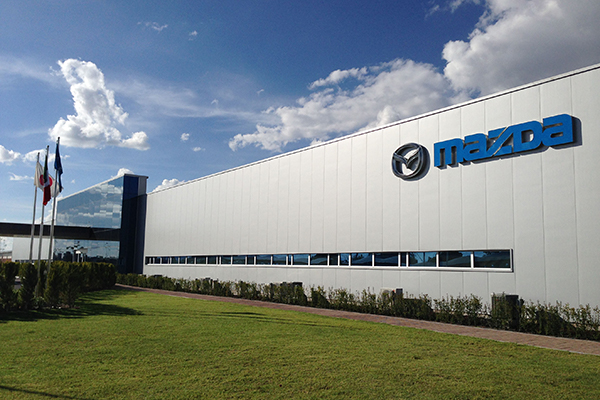 An integrated automobile production plant in Mexico
Mazda Motor Manufacturing de Mexico, S.A. de C.V. Mexico
This is an integrated automobile production plant, 200,000 m2 in size, that serves as a global strategic hub for Mazda Motor Corporation. Fujita handled all aspects from design and development to construction of this facility, located in Salamanca, Guanajuato, Mexico. This large-scale project was made possible by Fujita's construction track record and experience in Latin America, which span more than 50 years.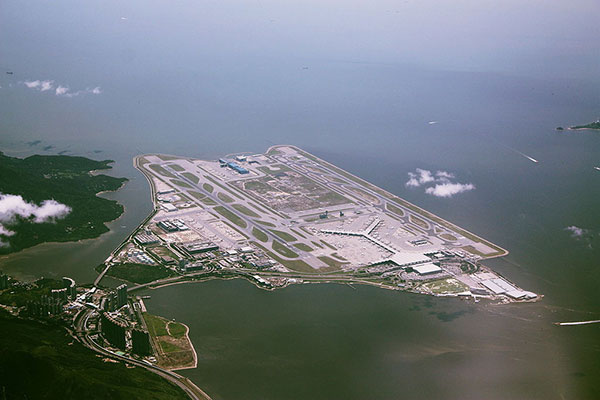 An Asian gateway that will continue to grow
Hong Kong International Airport Hong Kong
Hong Kong International Airport is an Asian hub airport used by 60 million passengers each year, and it has plans to expand its runways even further due to the growth in passenger numbers. Fujita has a strong track record of success with construction related to aircraft parking aprons, taxiways, concourses, and other airport facilities over the past ten-plus years, beginning with Terminal No. 2 (Sky Plaza) in 2004. Going forward, Fujita will continue to assist in Asia's economic development by improving the transportation infrastructure in Hong Kong.
A Japanese school based on Seoul's urban renewal model
The Japanese School in Seoul Seoul, Korea
Fujita adopted an urban renewal model of using funds from the sale of existing property to cover new property and structures in order to solve the problem of aging facilities in Seoul. In 2009, the Japanese School in Seoul, which covers the grades from kindergarten to elementary and junior high was built in DMC (Digital Media City), a high-tech district, with Fujita designing and constructing the facilities. The building is configured around learning centers to meet the particular educational program needs of an overseas Japanese school and to serve as a place of child nurturing where students of different ages can interact and where the cultures of different countries can mix together.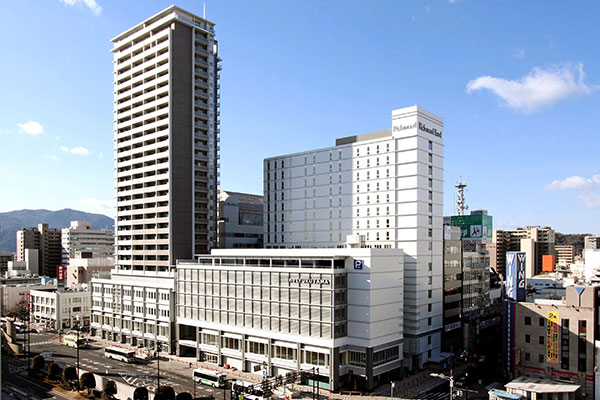 A complex that serves as the core of urban revitalization in Fukuyama City
Ines Fukuyama Fukuyama City, Hiroshima Prefecture
The Fukuyama Textiles Building which had stood for more than 50 years was reborn as the multi-purpose building "Ines Fukuyama" as a result of an urban redevelopment project. The lower floors have shops, the middle floors have offices and parking, and the upper floors contain residences and a hotel. The structure's eaves height is Fukuyama's highest at 101 m, and it is the first in the prefecture to contain seismic isolators in the middle floors. It has contributed to the revitalization of the area as a community symbol.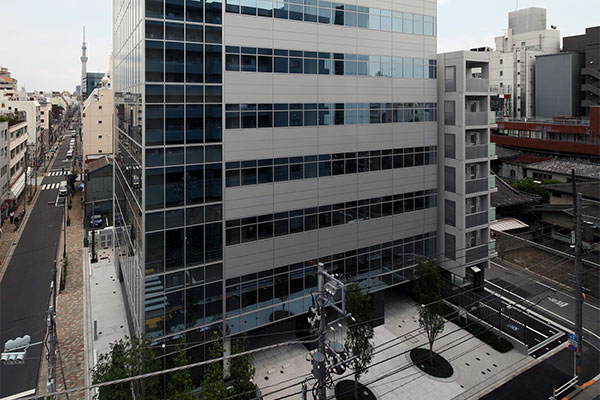 Construction of an office building and condominiums on land reallocated through equivalent exchange
Tokyo Metro Higashi-Ueno 5-Chome Building (i-Fort Ueno) Taito Ward, Tokyo
The Tokyo Metro office building, located to the northeast of Ueno Station, was rebuilt as a structure with 10 above–ground floors. This was a joint project with the Individual Landowners' Equivalent Exchange Project involving adjacent properties, and Fujita constructed the steel office building and reinforced concrete condominiums at the same time.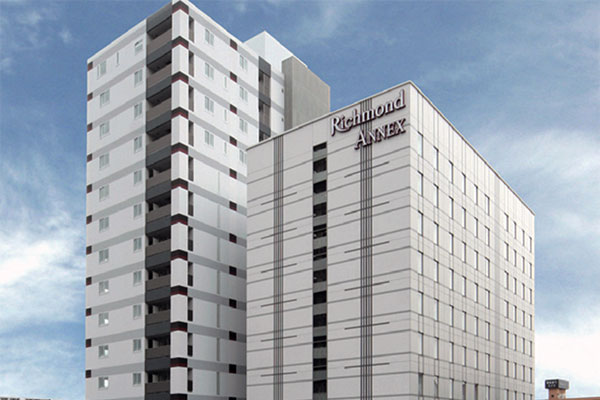 A complex comprised of a hotel building and a condominium building
Richmond Hotel Utsunomiya Ekimae Annex Utsunomiya City, Tochigi Prefecture
The property near the Utsunomiya Station was redeveloped as a business hotel and condominiums. The 2-building design is unified using white as a base color for a consistent look. The convenience of the location has won the appreciation of hotel guests.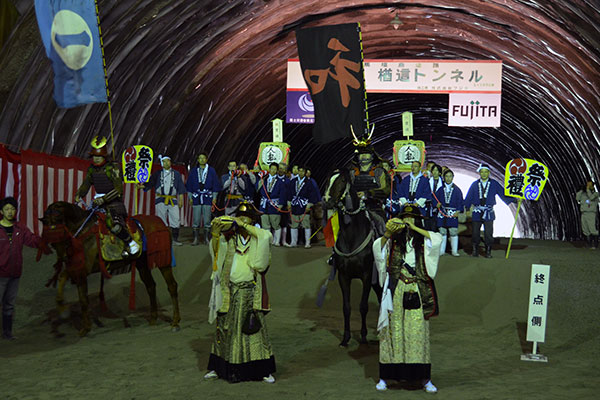 Tunnel No. 1 on the "recovery highway" linking the Abukuma mountain villages
Narabai Tunnel Soma City, Fukushima Prefecture
The Abukuma Higashi Highway, the section of the Tohoku-Chuo Expressway linking the cities of Soma and Fukushima, is a "recovery highway" that supports transportation through the mountain region. Everyone in the region awaits its early opening. The Narabai Tunnel with a total length of 1,492 m for the Abukuma Higashi Highway was the first tunnel to be completed after the earthquake. This highway has high expectations as a means of transportation in an area without a railway network and as an emergency route for rescue activities during natural disasters.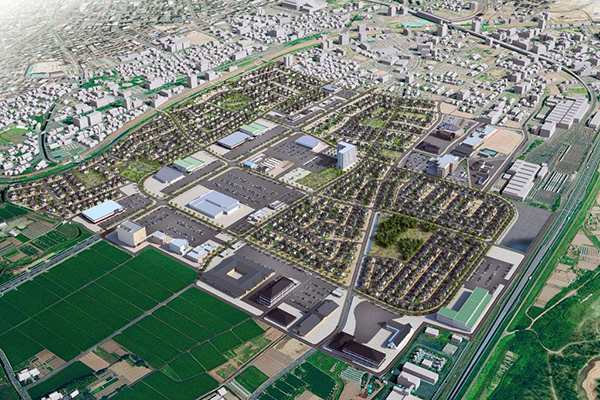 Sendai's largest high-value-added urban development project
The Tomizawa Nishi development project Sendai City, Miyagi Prefecture
Sendai's largest urban redevelopment project is currently being carried out by Fujita using the company's urban development expertise in an area 6 km south of Sendai Station. The project includes improvements to commercial facilities, residential areas, and even healthcare-related facilities. The objective is to create a sustainable city where people can continue living healthy lives. The company is proceeding with development with the goal of creating highly value added living spaces that are safe, secure, and comfortable.
Public facility restoration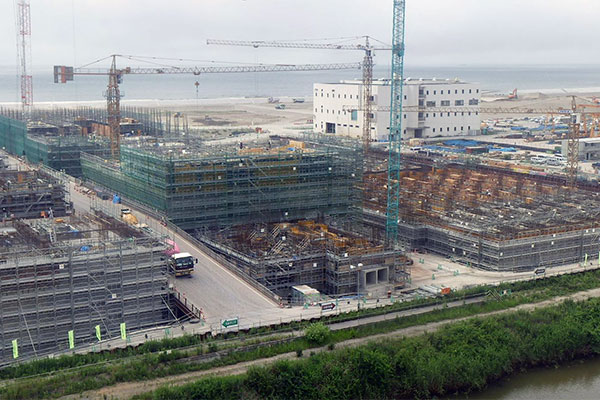 Restoration of a sewage treatment facility that people's lives depend on
Minamigamo Water Treatment Center Sendai City, Miyagi Prefecture
The Minamigamo Water Treatment Center, the largest in the Tohoku region, handles water treatment for 700,000 people and some 70% of Sendai's wastewater. However, it was completely destroyed by the tsunami that accompanied the Great East Japan Earthquake. Fujita is currently carrying out a restoration project, completed in 2015, aims to completely restore the water treatment facilities.